Generate Leads on IndiaMart, TradeIndia With Businessi CRM
With Business i CRM software reduce your lead leakage to zero and make use of the lead creation opportunities offered by marketplaces.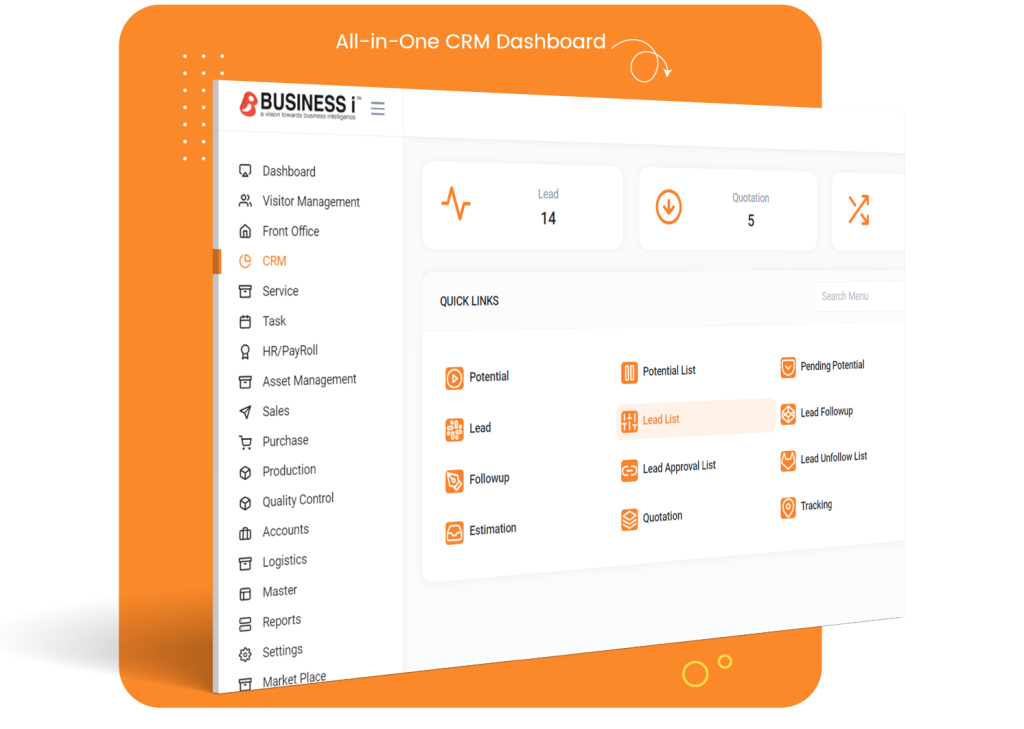 Never Again Miss a Follow-up
Get valuable information about the lead funnel activities from Business i CRM to improve your marketing and sales ROI, figure out which lead sources are producing the best leads and concentrate your efforts there. Follow up and qualify leads from capture to closure with success. Initiatives may be easily managed and followed across platforms like Tradeindia, Indiamart, etc. 
Now that you have a good understanding of how lead management software might benefit your company, what comes next?
Simple Reasons to try Business i CRM
Today

Leads can be gathered from a variety of sources, including Facebook, Instagram, Indiamart, TradeIndia, and Just Dial.

In order to decrease missed follow-ups, Business CRM will notify the admins if your staff has neglected to complete follow-ups and duties.

Enables users to edit the price and the no of products in an already prepared quotation. Users can also view the no of times their quotation has been modified on the screen.

With Business i CRM, email your prospective customers and current customers with offers and updates about your product.
While seeking new clients, don't forget about your existing customers. To upsell to your customers, send them offers frequently.

CRM can be integrated with Facebook, Indiamart, TradeIndia, and JustDial to guarantee that no leads are lost.
Why does your Small business require a CRM?
Without specialized tools, businesses in the early stages of development will be simple to manage, but as your company expands, you'll need a thorough understanding of its performance. You'll need more because spreadsheets can't be used to obtain it. You require a tool that has all the functionality you require to launch your business, and that tool is Businessi.
Try Business i CRM. It is an integrated lead management tool that fully collects and enriches leads in your CRM database. Leads are automatically gathered and enhanced in your CRM database because of its built-in lead management tools. Also, you can choose whatever key information you want to be displayed up front in the summary and highlights area.
From within your CRM software, you can keep track of lead actions, qualify them with lead segments, and nurture them into customers. Sure, you can accomplish all of this with only one sales tool.
Optimize sales pipeline
effective team communication
Evaluate lead generation activities.
Tele Sales Team Reporting and Tracking
Monitor the activities of the telesales team in the CRM, including call status, call duration, unfinished/completed follow-ups, etc.
Do a daily, weekly, or monthly performance analysis of the telesales team.
Automated Lead distribution
You can assign leads to teams based on location, product, or department using pre-defined process rules. Top queues can be used to distribute leads equitably and improve follow-ups. Make sure you don't lose leads because of poor customer engagement strategies.
Speeds Up Your Lead Management
More Conversions & Less Lead Drop-offs
Better Measurement Of Sales Rep Success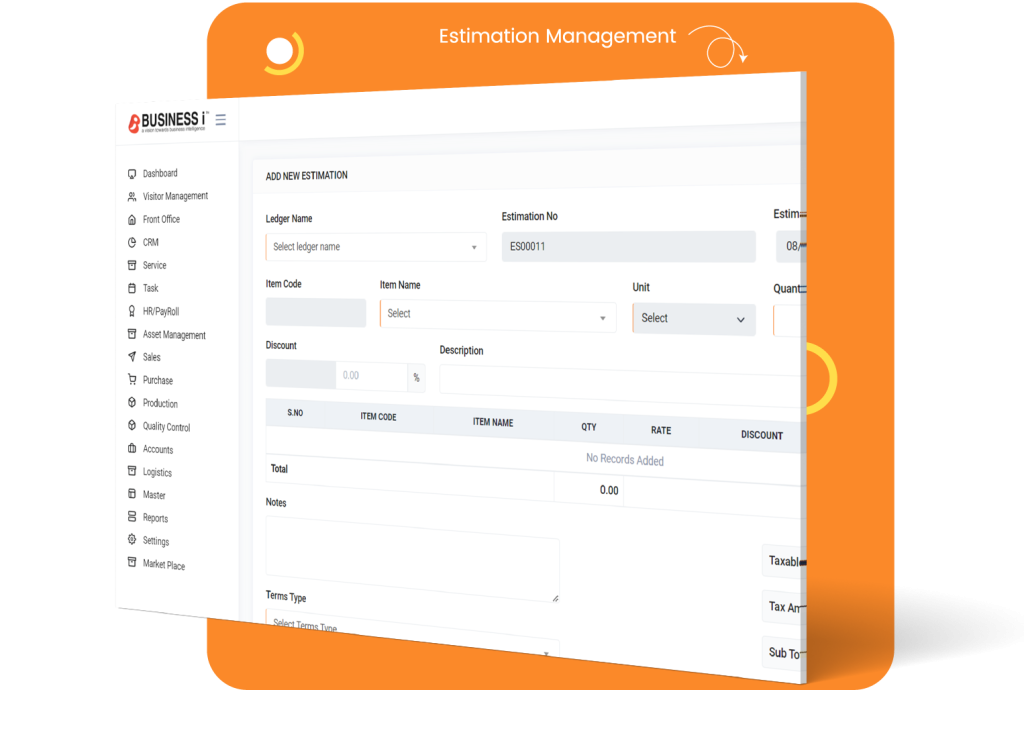 Elegant Quotes will increase sales.
Present your services and products in a professional manner.
Business i CRM software holds different types of Enquiries which are very important for business prospects and revenue generation.
Users can easily identify the types of inquiries  Hot, Cold, or Normal.
 Simply drag and drop construction pieces to add product descriptions and more information.
Single Click to create a Quotation, Sales Order, proforma invoice, or Invoice.
Turn leads who are prepared to purchase your goods or services by sending an Estimate with just one click. You can also make immediate follow-up tasks while converting. Business i CRM enables you to close deals more quickly with your potential leads.
Moreover, automatic data association of leads to contacts or accounts implies that all your lead information is successfully stored and related to a contact's information.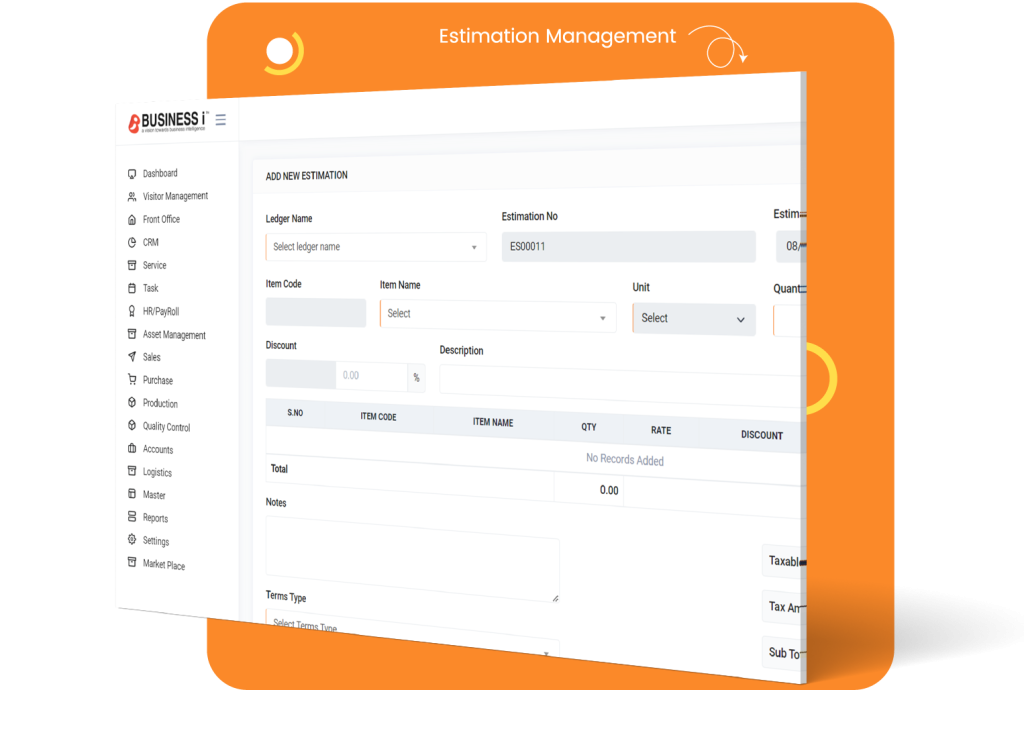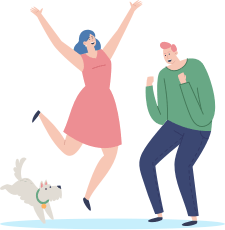 Enhanced Sales.
Connections that endure.
Increased Growth!
Free 7-day trial. No Credit Card is required.