Boost Operational Effectiveness and Profitability
Business i ERP allows you for more complete collaboration, supports data-driven decision-making, and gives companies full visibility over their process.
By using Business i ERP software for your business helps you from improving your financial management and cash flow to enhancing your project delivery, so that you can easily overcome some of the key challenges faced by professional servicing industries.
Business i for Professional Services
Professional services provided by Business i ERP to products enable you to automate processes to reduce admin and focus on more important areas like CRM, HR process, and billing. By using dedicated business management software for industrial services, companies can go beyond professional services and become interconnected from all departments. 
Professional Services ERP is a fully integrated, end-to-end business management solution that connects your business across finance, sales, and service. It combines real-time business analytics, flexible business processes, and a single data source to automate, streamline, and ultimately boost project margins and revenue.
Benefits of Business i ERP for
Professional Services

Financial Business Tracking
Single system can track and manage all business transactions due to the improved reporting capabilities that modern ERP for the financial services sector provides for every function. Business i ERP solutions that take advantage of cloud accounting features give you more exact real-time statements and enable accurate expense and revenue control throughout your entire company.

Dashboards that show data and flexible  Reporting
It  takes more than just identifying KPIs to make your clients and business successful. You can delve down into your data and make wise decisions to drive success with an ERP's visual dashboards and extensive built-in reporting capabilities. With a complete, real-time image of your firm, you can gain more financial and operational control.

Data transfer between systems must be seamless for you to get the most out of your accounting solutions. Business i ERP for the financial services industry frequently include an open API to enable seamless interfaces with a wide range of supplementary software. This allows you to expand on the functionality.
By using business i ERP system, you may cut down on user error and the time it takes your staff to complete manual tasks by as much as 50%. Automate everything to free up your team's time for billable work and strategic projects by managing resources, billing, and revenue recognition in addition to tracking costs, time, and expenses.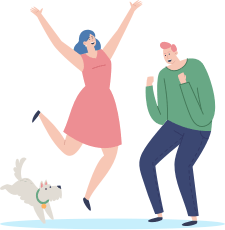 Are you Ready to Transform your Professional Services Organization?
No credit Cards required!